Loading & unloading operation of DPP series Blister Machine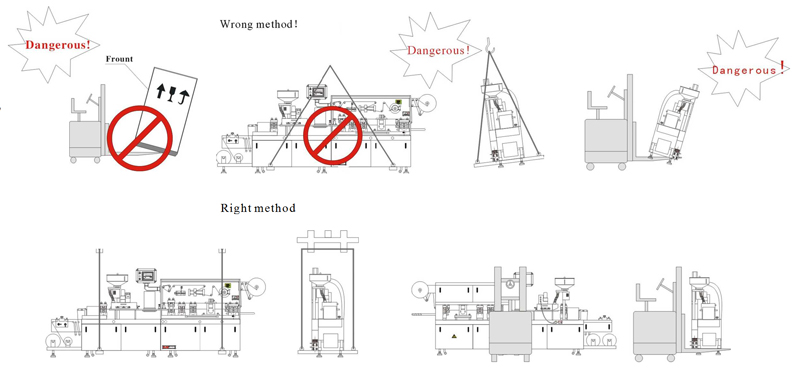 Please take note when transport the Blister Machine.
Using crane:
1.The crane must have more than 3000kg load capacity.
2.Each side of the crane hook must can support more than2500kg weight.
Using forklift:
1.Once the forklift lift up the blister machine, please put the machine on the appointed place
2.The forklift must be steady and fixing.
3.The forklift must have more than 2500kg load capacity.
4.When lifting up the machine, please note the center of gravity of the machine, be cautious.
Locate and Cleaning of the blister machine
1.Place the blister machine horizontally on the room, no need to install foot screws, the rubber mat with a thickness of 12mm should be placed under foot of machine to avoid damage to the ground or unexpected displacement to the machine.
2.When machine installed, fix eight foot screws under machine.
3. Make sure eight foot holders are steady.
4.Clean the blister machine completely, wipe out machine surface oil.