Blister Packaging Line in Pharma in Shanxi China (contain video)
Blister Packaging Line, combined with the continuous motion Blister Machine, Pillow Packing Machine, continuous motion Cartoner and Stretch-Banding Machine.
The video of this line is available at: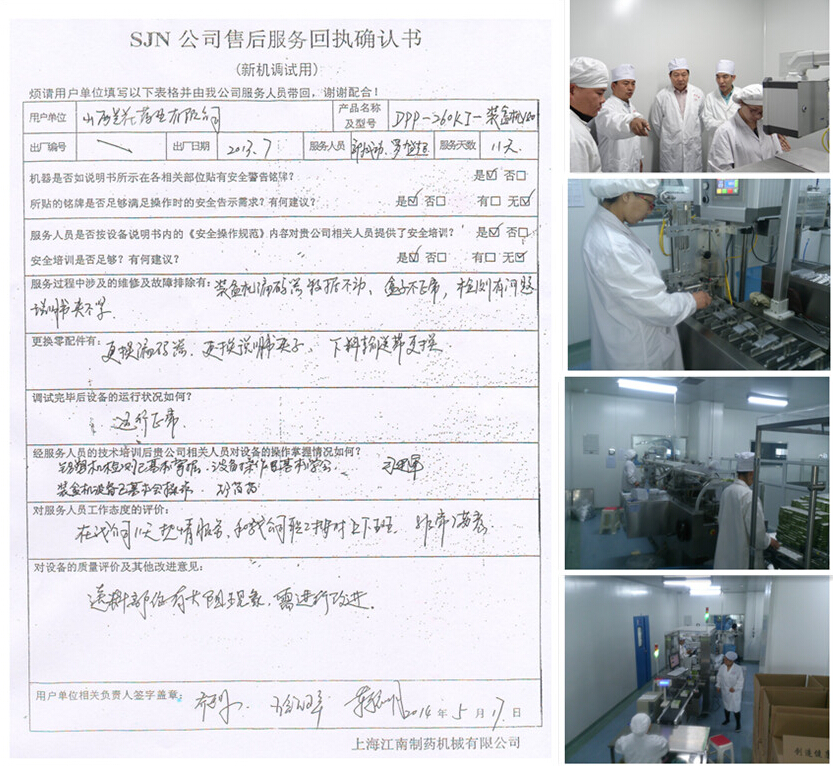 Company Name of Machinery User:
Shanxi Lanhua Pharmaceutical Co., Ltd.
Product Name and Model: DPP260KI-ZH220 Blister-Cartoner Line
Service Technician's Name: Cao Shunyong
Are all the safety alarm plates (board, panel) on the Blister Line as noted as on the Operation Manual? Yes
Any advice for the safety alarm plates? No Are they adequate? Yes
Did our service engineer provide safety operation training according to the "safety operation rules of the Blister Packing Machine?"
Yes.
Any advice for the safety training? No Are they adequate? Yes
Your evaluation of the maintenance and fault handling during this service? 1. The encoder of cartoner machine is unnormal. 2.Something wrong with detection. 3. Leaflet clamp isn't tight enough.
Were any parts changed during this service? 1. Encoder; 2. Leaflet clamp; 3. Feeder conveyor belt.
Your evaluation of the after-service performance of this Blister Line?
Operate normally.
After training, did the machine's operator run the machine independently? 1.
We have already mastered detection system of AL-PVC Blister Packing Machine and basically know how to operate the Blister-Cartoner Line
. 2. We
basically
known
how to operate the Cartoning Machine.
Your evaluation of the Technicians' working attitude? The technician is very enthusiasm and laborious , working on time with our workers.
Evaluation or Suggestions about our product:
Feeding part has blocking sometimes it needs to be improved.
Date: 17/05/2014