Blister Packaging Line in Algeria (contain video)
Blister Packaging line integrated with Blister Machine and Cartoning Machine in production in customer factory, the video of this Blister line at: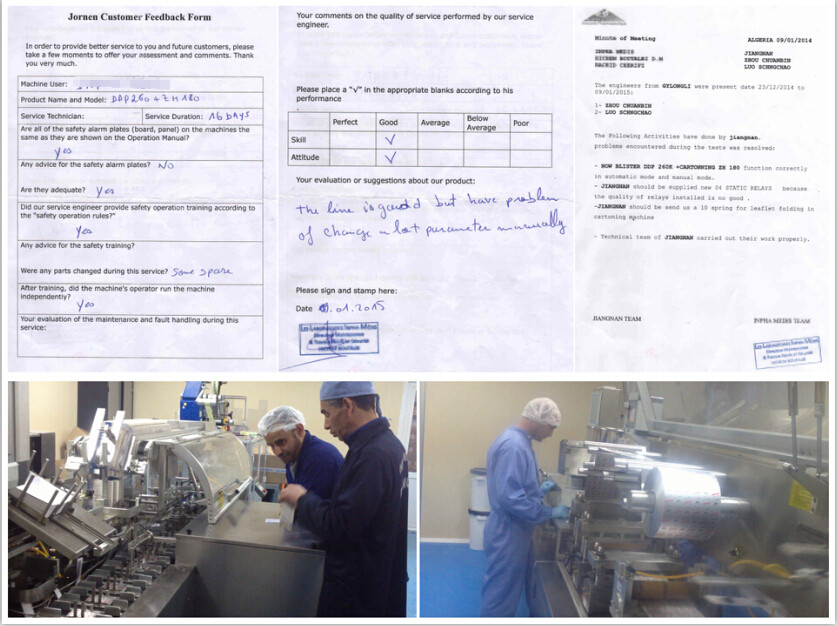 Product Name and Model:DPP260 (Blister Packaging Machine) and ZH180 (Cartoning Machine) Blister Line
Service Technician's Name:ZHOU CHUANBIN and LUO SHENGCHAO
Are all the safety alarm plates(board,panel)on the Blister Packaging Machine as noted as on the operation Manual?
Yes.
Any advice for the safety alarm plates? No Are they adequate?
Yes.
Did our service engineer provide safety operation training according to the "safety operation rules of the Blister Packaging Machine?
Yes.
Any advice for the safety traning? No. Were any parts changed during this service?
Some spare.
After training, did the Blister Packaging Machine's operator run the machine independently?
Yes.
Your evaluation of the maintenance and fault handling during this service?
Your comments on the quality of srvice performed by our service engineer.
Evaluation or Suggestions about our product:
The Blister packaging machine and cartoner are very good but have problem of change a lot parameter manually
The engineers from GYLONGLI were present date 23/12/2014 to 09/01/2015:
The Following Activities have done by Jornen
problems encountered during the tests was resolved:
-NOW BLISTER PACKAGING MACHINE DPP260K + CARTONING MACHINE ZH180 function correctly in automatic mode and manual mode.
-Jornen should be supplied new 04 STATIC RELAYS. Because the quality of relays installed in no good.
-Jornen should be send us a 10 spring for leaflet folding in cartoning machine
-Technical team of Jornen carried out their work properly.